If you're looking to add a little oomph to a room, patterns are the way to go. And of all the intricate and fancy designs out there, there's no better pattern than a good, simple, bold stripe to really give a room that graphic punch you're after.
Stripes are clean, crisp, uncomplicated and effortlessly chic. What's more, they're an easy DIY project for your Saturday morning. The only decisions you'll need to make are whether you'd want them to be:
– Vertical or horizontal
– Wide or narrow
– Colourful or muted
A quick Google search will have you reeling – there are awning stripes and candy stripes and pinstripes in every colour and design imaginable. The possibilities are endless, so we've narrowed down our favourite inspirational ideas to give you 10 sensational striped spaces – and tips on how to create them in your own home!
We'll start with the basics: Black and White.
Now, now, there's no need to run away screaming… take a look! This impressive living space might form part of a multi-million dollar Manhattan apartment, but we can assure you that the wall treatments can be brought to your own home at a mere fraction of that cost.
Notice how the very bold walls are toned down with neutral coloured furniture and soft fabrics. It all works, and we're in love.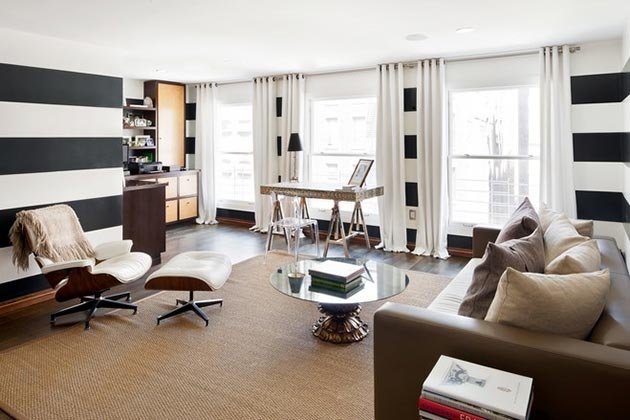 Colour codes: Black RAL 9005 | White RAL 9016   (image source)
If black is too bold for your liking, you can tone it down by going for another deep colour, like the khaki brown they chose for this kitchen. This way, you'll retain that dramatic look without going too far out of your comfort zone.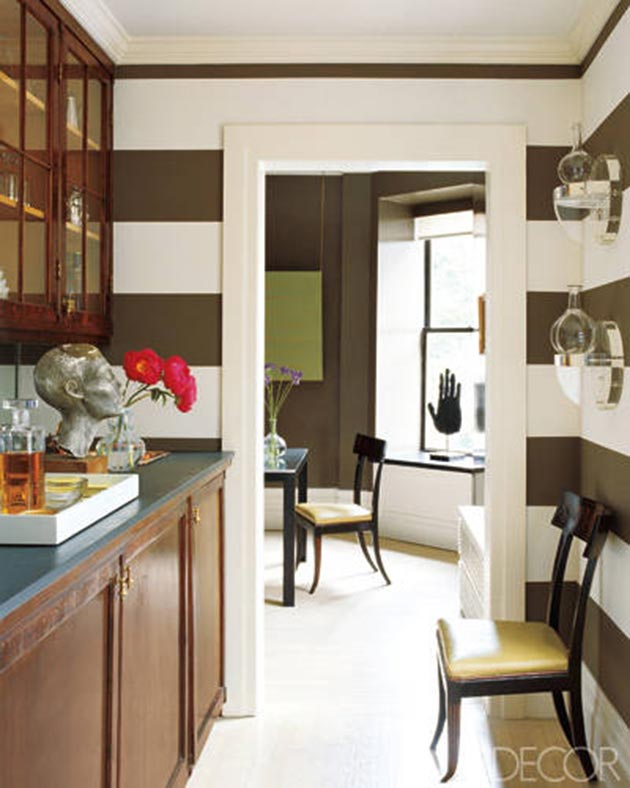 Colour codes: Brown RAL 6014 | White RAL 9016   (image source)
Still too bold for you? Go mellow instead. We love this cool and feminine home office with a pale pinkish beige stripe used against a white background. In this case, the pop of colour is clearly found in the furniture.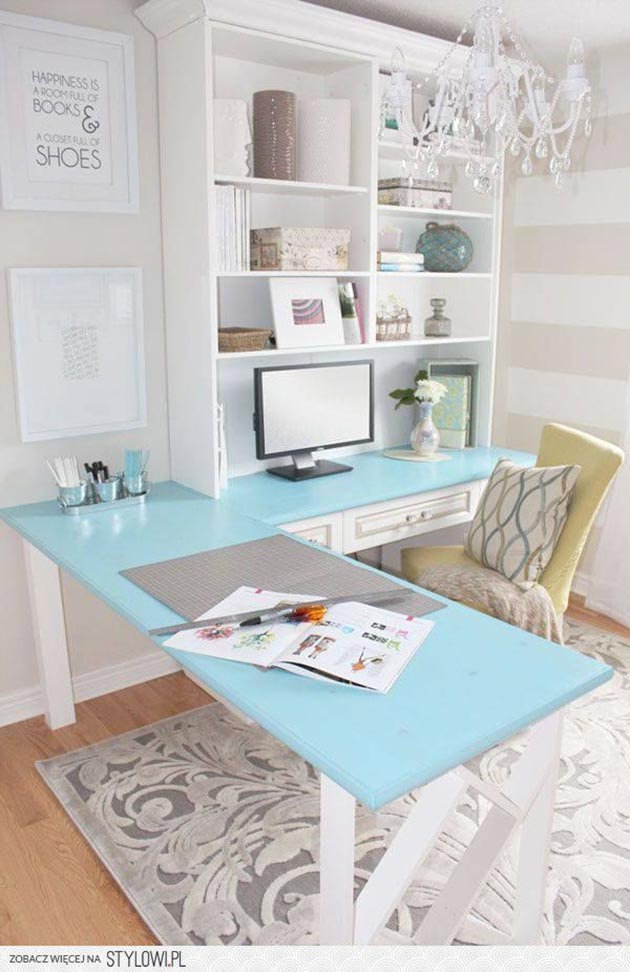 Colour codes: Beige S 1005-Y80R | White RAL 9016   (image source)
A French Accent
Introducing awning stripes. We've gone vertical now, and soft shades of cream and grey were chosen for a less dramatic, yet still impressive, effect.
Take a closer look – Designer Catherine Memmi used grey-and-cream stripes on some walls and beige-and-cream on others, to add a little something extra without disrupting the peaceful tone of the room.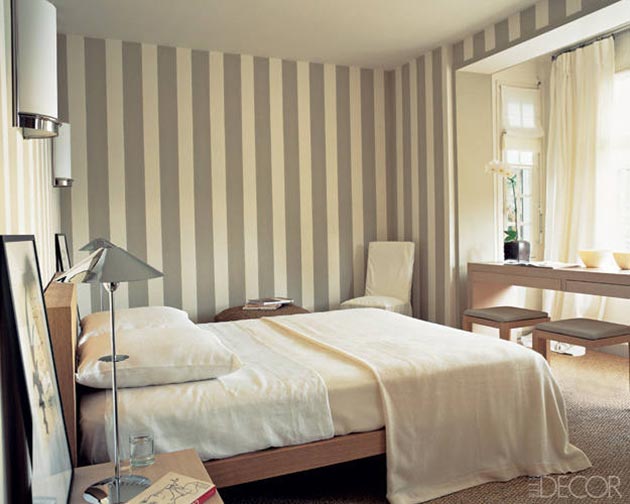 Colour codes: Grey RAL 7042 | Cream RAL 9010 | Beige S 1015-Y20R
Speaking of greys, we love this simple stripe design – just three stripes of different widths that create a stunning effect for an entryway or hall. Notice how the pale colour pops against the accessories of the same colour shades – keep that in mind when choosing the colour for your walls.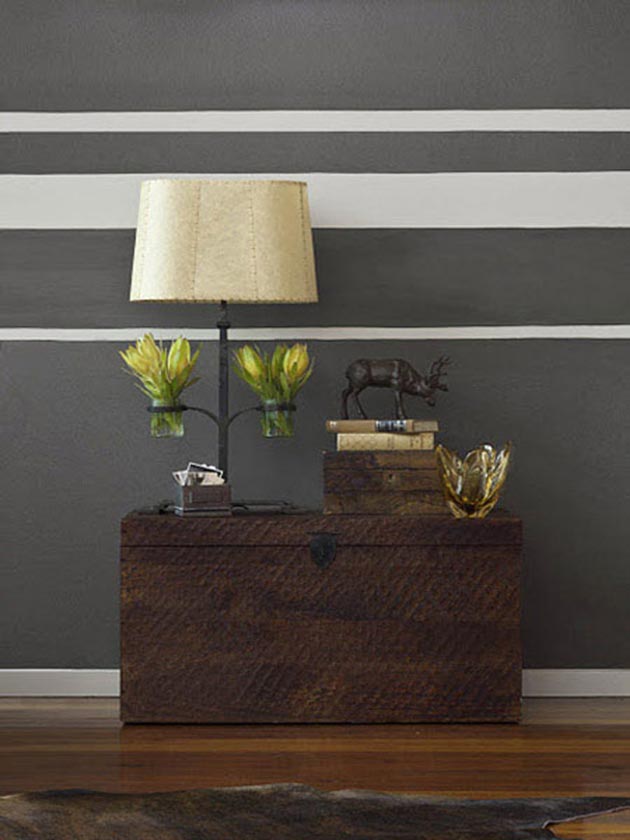 Colour codes: Grey S 7500-N | White RAL 9016   (image source)
Not your average nursery
Stripes allow for a playful use of colour that works well in baby rooms. This Mad Men inspired grey-and-yellow colour combination features a very subtle stripe that adds interest to this little boy's room. If you're one of many, many parents out there who never want a traditional blue room for a boy, this is a perfect example of a room that's classic, modern and yet still baby friendly – bright and cheerful without being too childish!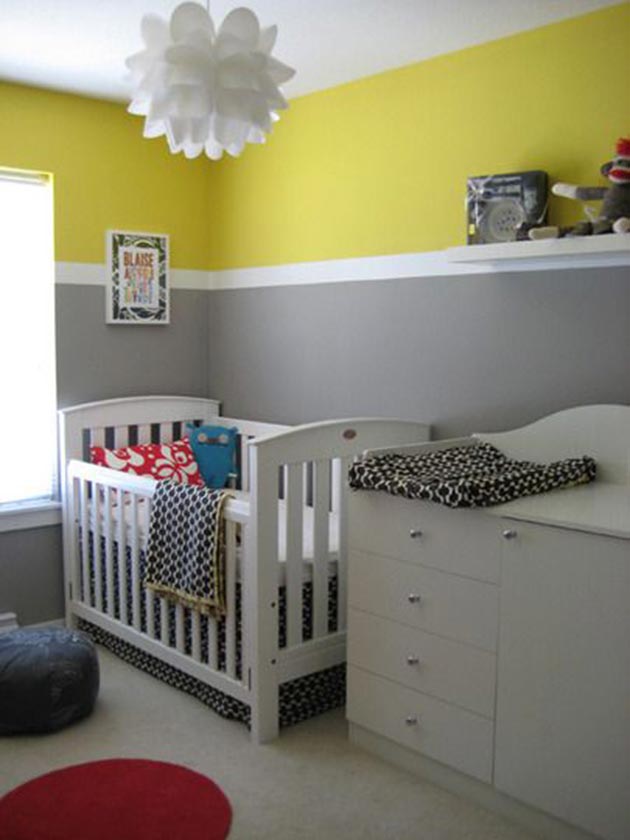 Colour codes: Yellow S 1050-Y | White RAL 9016 | Grey S 5402-B   (image source)
In this case, the striped feature was only used on a portion of the wall, which creates a great focal point for the room. Here, the decorator paired her favourite grey paint with creamy yellow and cool, calming spa blue. These three colors played off of each other so well that she limited the space to that palette and balanced it all out with crisp white furniture and accents.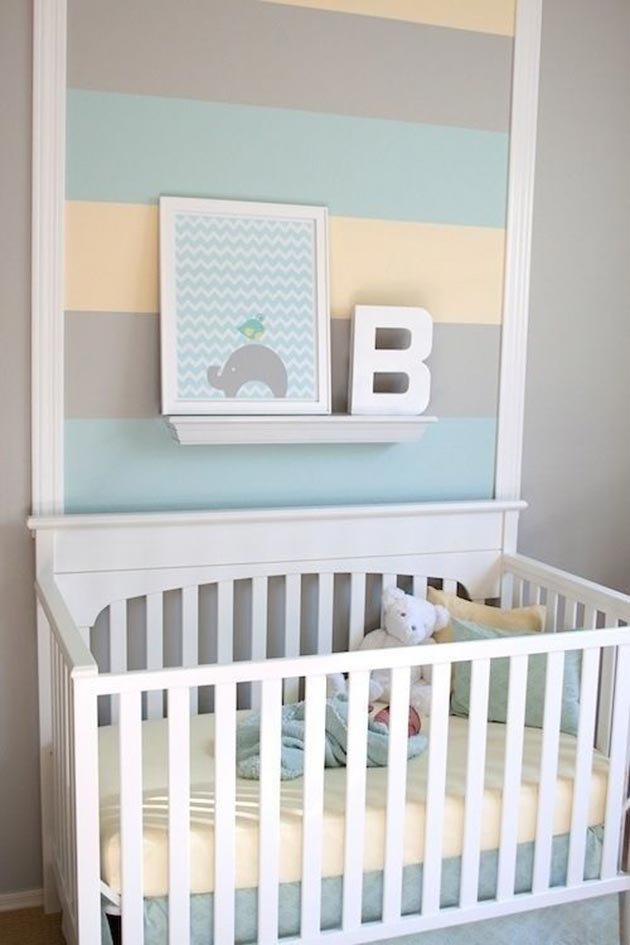 Colour codes: Blue RAL 6014 | Yellow S 0515-Y40R | Grey S 3502-R   (image source)
And once the baby grows up…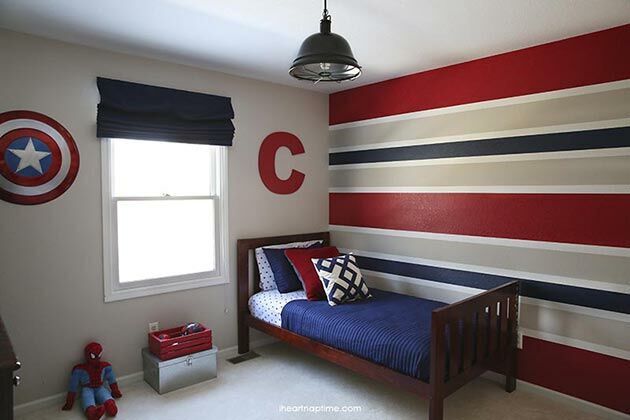 Every little boy wants to be a superhero! These Captain America stripes are a great way to amp up the kids' bedroom. You'll notice that the stripes are different in size – this DIY job involves a little more calculation, but it's still super easy to set up, as you can see from this great tutorial.
Colour codes: Red S 2570-Y90R | Blue S 6030-R80B | Grey S 1002-G50Y
Ombré Stripes
We love the way these stripes range from light to dark shades of the same colour, giving the space a dynamic energy that's great for a bathroom. (How else will you wake up in the morning?)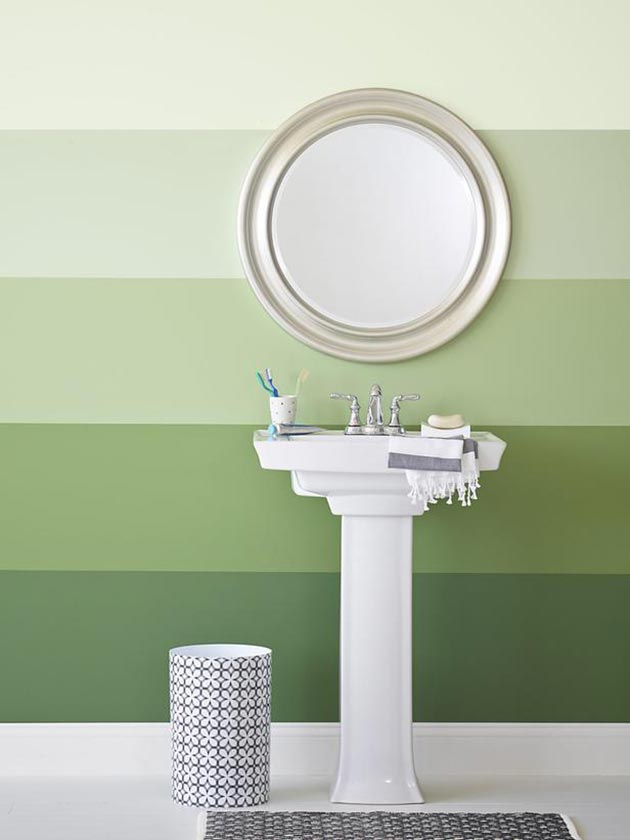 Colour codes (darkest to lightest): S 5020-G30Y | S 2020-G50Y | S 1510-G60Y | S 1005-G30Y | S 0505-G30Y   (image source)
Worried about which colours to choose? It's a no-brainer. Simply select five colours from the same paint strip in our swatchbook and you can't go wrong.
If you need a little guidance, here's a quick tutorial:
Step 1: Starting from the ceiling, measure the height of your wall with a tape measure and divide by 5 to figure out how tall each stripe should be. Add a line of masking tape where the top horizontal stripe will end, using a spirit level.
Step 2: Paint the top stripe the lightest colour. Remove the tape at the stripe's bottom edge while the paint is still wet. Let dry.
Step 3: Apply a new strip of masking tape on the lightest stripe, along its bottom edge. Add a second piece of tape where you want your next stripe to end. Paint the second stripe the next darkest shade. Remove both pieces of tape while the paint is still wet. Let dry.
Just keep going until you reach the bottom, et voilà!
Multi-coloured
And we're back to vertical with an adorable accent wall in the kitchen. We love the way the varying widths and colours help draw your eye upward, so the room feels a lot taller and more airy. It's a great trick if you have low ceilings in your home.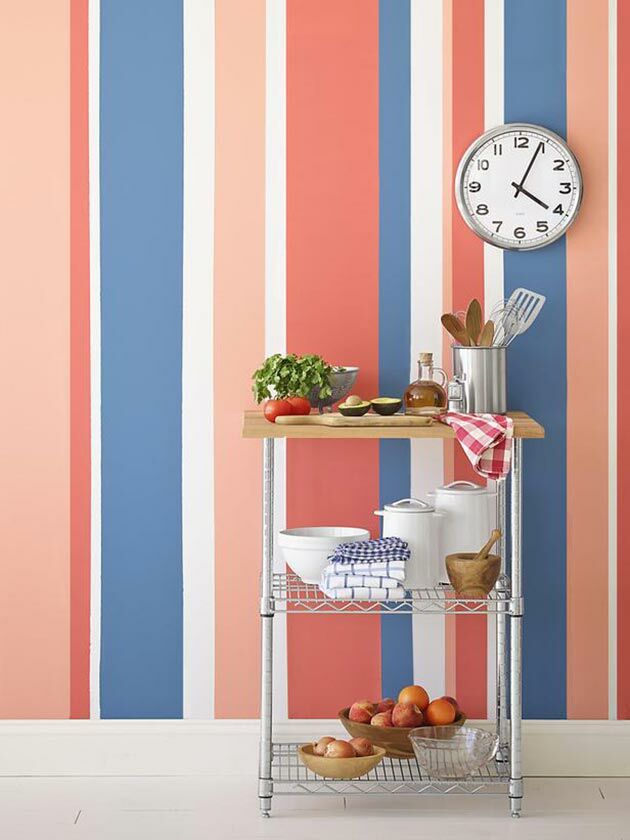 Colour codes: Blue S 3040-R80B | White RAL 9003 | Pale Coral S 0520-Y80R | Dark Coral S 1060-Y80R   (image source)
Are you dying to try it out? Here's how to go about it:
Step 1: Paint the entire wall white. Let dry.
Step 2: Tape off random vertical stripes in varying widths. Keep in mind that you'll want to leave some stripes white. Paint these stripes light coral. Remove the tape while the paint is still wet. Let dry.
Step 3: Re-tape another set of stripes for the dark coral. Paint, remove the tape, and let dry, then repeat for the blue stripes.
Going for stripes in the home is definitely a bold move, but with a little time, patience and plenty of inspiration, you won't be disappointed. When buying the paint, remember to speak to one of our distributors about the best masking tape to use when painting stripes. Once you've got that, half the job's already done!
Do you have stripes in your home? Send us a photo on our Facebook page – we'd love to see your creations!