You've had it with the beige. Those walls you've been looking at for months and years just don't do it for you any more. You're after something modern, something edgy to spice up your home decor. You're looking for inspiration and you're willing to consider almost any colour – blues, purples, pinks even. We'll bet you one thing though, you're probably not thinking yellow. Right?
We wouldn't blame you. Yellow is usually seen in babies' rooms and grandmas' kitchens to create a calm, quiet place. But this versatile colour isn't just about ducks and bunnies and gingham tablecloths – pick the right shade and yellow can be dramatic, daring and surprisingly debonair. Whether it's maple gold, cheery sunflower or soft buttercream, we've found some inspiring designs to help you learn the best ways to bring the sunshine into your home.
Here are some of the ways colour-savvy designers have proven that yellow doesn't always have to be mellow:
Rise and Shine
A bright and airy breakfast nook is the perfect candidate for a sweep of sunny yellow to really wake you up in the morning.
The bright hue is paired with simple accents like the weathered wood table and pillows cased in sack material. Orange and turquoise accents add dimension to the room, while acrylic chairs add a touch of modern whimsy. The combination of colours is cheerful and airy yet still within the realm of pastel hues. (Colour code: S 0520-Y10R)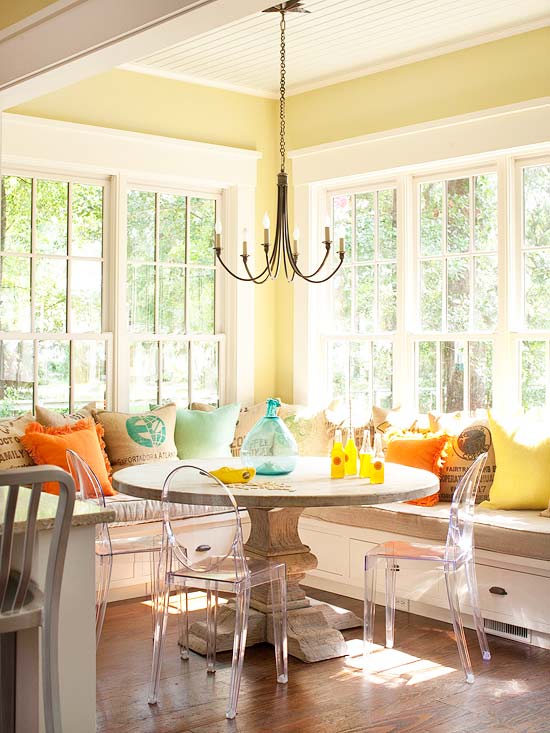 You could also go for more contrast between the wall and the accents, just like the guys at Zahn Builders did in this breakfast corner. The soft, creamy yellow colour reminds you of whipped butter and looks superb when complemented with each of this room's colours. (Colour code: S 0515-Y20R)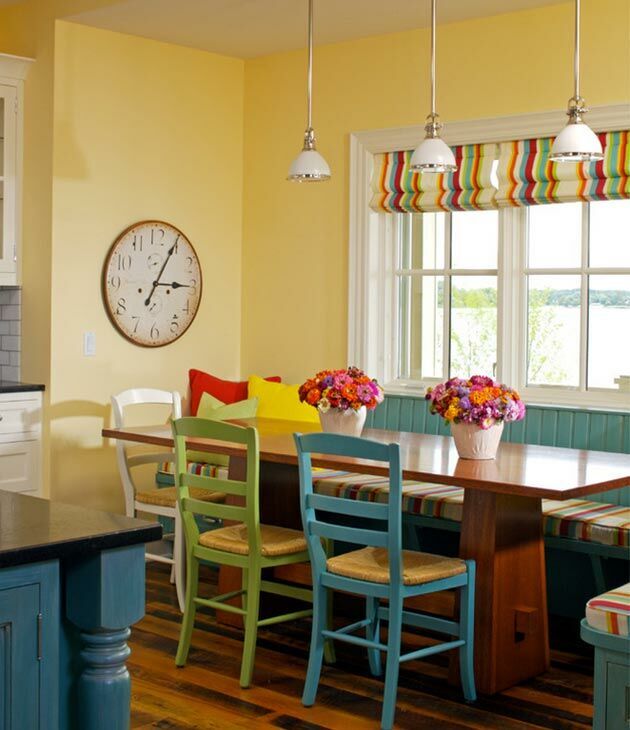 Beachy Peach
Yellows differ according to their underlying tones. For instance, the wall colour in this dining room has a touch of red, which makes it a more muted alternative to the sunny yellows we've seen so far. The peachy walls in the room instil memories of lazy days spent at Ramla Bay in Gozo or the Riviera at Ghajn Tuffieha.
The beachy feel is enhanced with the use of seaside-inspired decor that captures the textures and colours of the shore. Pebbles in glass jars, large conch shells, the rattan chairs and the wooden table help the room feel more organic. (Colour code: S 0520-Y40R)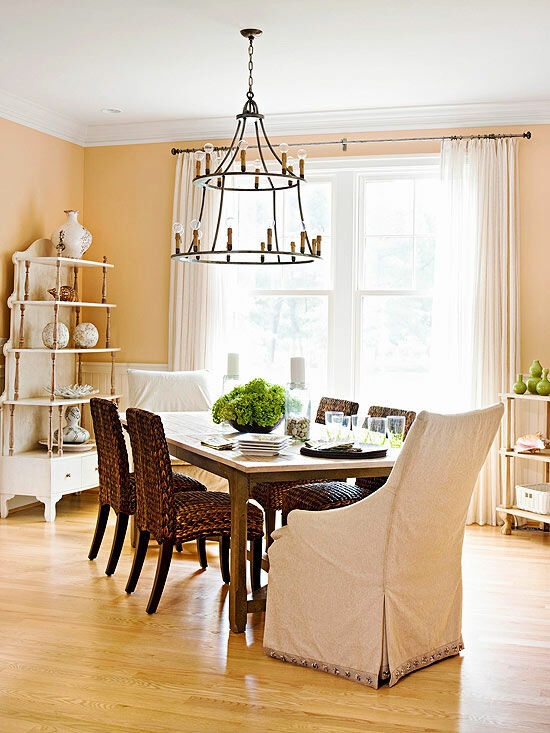 Timeless yet Trendy
Here's another, completely different take on yellow in the dining room. Melon-yellow walls contrast with striking indigo to make a space that is trendy, yet timeless. You can't go wrong with a classic colour combo like blue and yellow, but by using interesting shades like ochre and indigo, the go-to combination gets a facelift.
Plus, the rich yellow warms up the clean white furniture in the dining area to make it even more welcoming. (Colour code: S 0530-Y30R)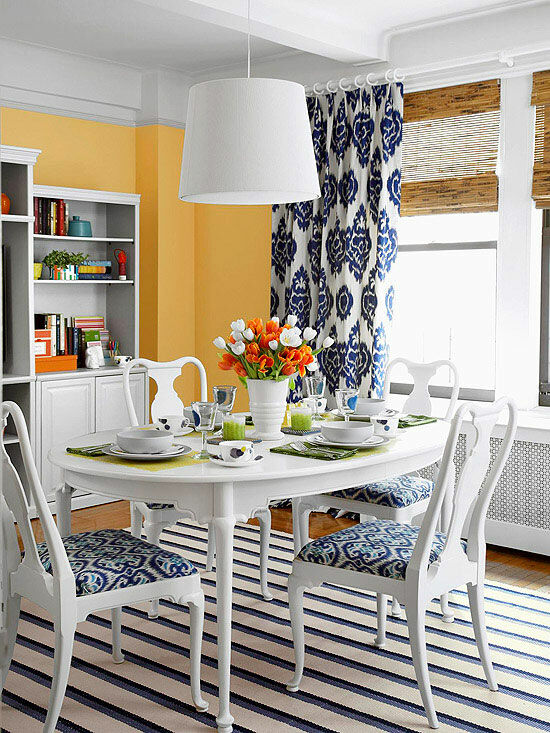 Warming up the bathroom
Bathrooms are cold. Literally. With steel fittings and stark white ceramics, it's easy to ignore your bathroom when decorating the home. A warm yellow feature wall, like the one in this vintage-chic bathroom, is a great way to give the room a warm and inviting feel.
Here's a tip: if you're matching the paint to an existing feature like a tile or upholstered piece, try not to match the colours perfectly. "It makes your room feel flat and one-dimensional," says designer Sara Gilbane. "Go two shades lighter or darker." (Colour code: S 0530-Y10R)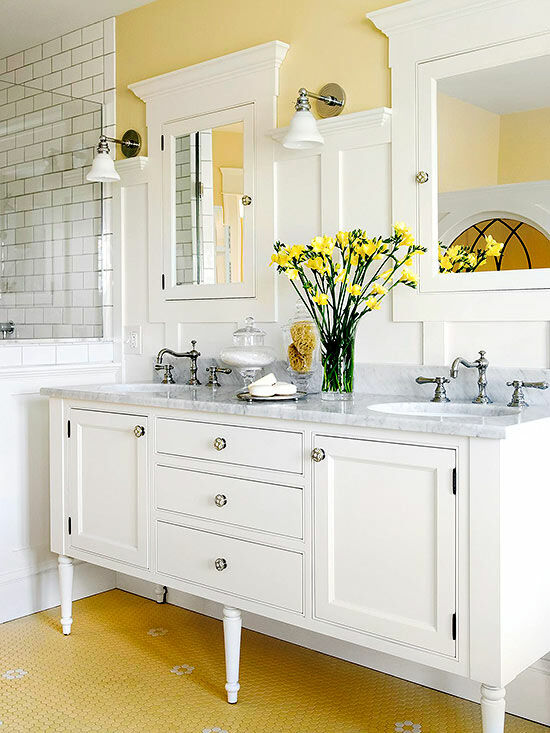 Beyond Walls
Another tip to getting the most out of a yellow paint colour is moving beyond the four walls. Try to put a hint of colour onto the ceiling, as in the kitchen (designed by Tara Seawright) and bedroom pictured here. It makes the room feel more complete. Careful though – the colour will look darker on the ceiling, so keep that in mind before applying that second coat. (Colour codes: Kitchen S 0550-Y10R | Bedroom S 0515-Y30R)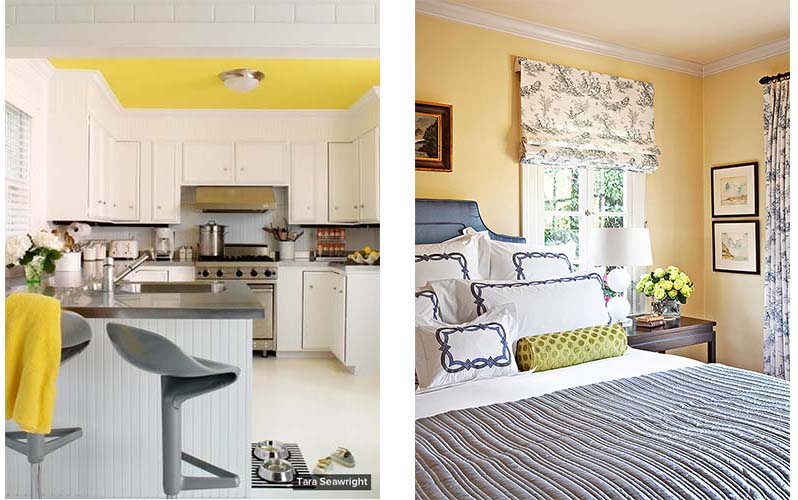 Take it outside
Rich, warm yellows work well on an accent wall in a garden, porch or terrace, particularly when surrounded by the intense, dark green that comes with tropical plants. A clear, sunny yellow is also a classic choice for the front door. Check out this stunning entrance, designed by Debra Yates. (Colour code: 1076-Y13R)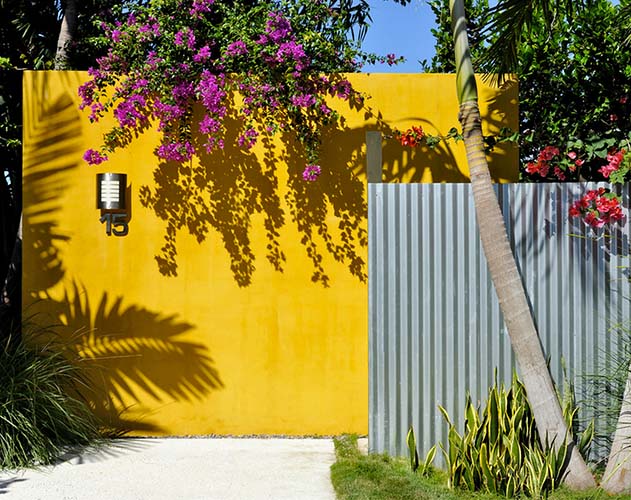 Inside, outside, walls and ceilings – there's plenty of room for yellow in your home. Whether it's used as a feature on an accent wall or as a pastel background to tie the room together, there's no need to shy away from a notoriously difficult colour.
As designer and author Becky Dietrich said: "In my experience, people coming into a room with yellow walls often don't even notice the color. What they notice is how inviting the room looks and how it makes them feel inexplicably better."